Prof. Dr. Abdul Wahab Ezzat, President of Ain Shams University, Prof. Dr. Abdel Nasser Sengab, Vice President for Graduate Studies and Research received a delegation from the European Union and Erasmus + in the presence of Prof. Dr. Sheref Kotb Director of Innovation and Enterprise Development Unit.
The delegation included Dr. Yasser Al-Shayeb Coordinator of the European Union Office in Higher Education and Dr. Duaa Sami Deputy Coordinator of the Office of the European Union and Dr. Franco Yur Gio Representative of the EACEa Agency and Dr. Simania Dar Djevi, National Office of the European Union for Higher Education, Serbia and Mr. Dalia Al-Arabi Managing Director, European Union Office for Higher Education.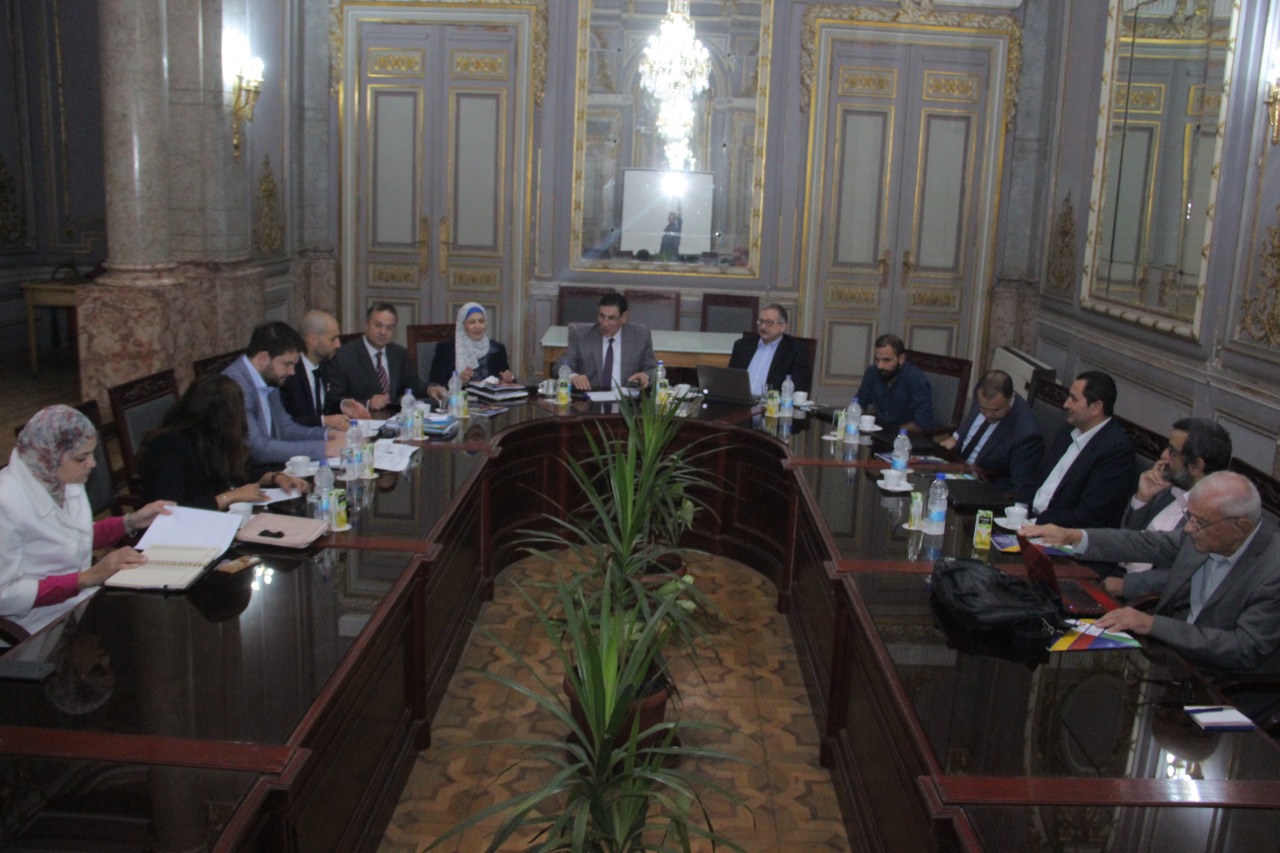 A meeting chaired by Prof. Dr. Abdul Nasser Sengab, Prof. Dr. Sherif Kotb and Prof. Dr, Nagwa Badr Dean of the Faculty of Computers and Information and all members of the delegation. During which he reviewed a quick overview of the projects funded by the Erasmus project that represents 18 projects in various faculties of the university, including engineering, computers, science and science.
Prot. Dr. Aisha Mahmoud Sweilem, head of the Spanish language department at the Faculty of Al Alsun, discussed the experience of eight students from the third division of the Faculty to the Spanish University and praised the administration of the Spanish University for the high level of students and the success of the experiment.
Prof. Dr. Tamer Al-Nadi Professor of Mechanics, Faculty of Engineering, Ain Shams University, reviewed the Research Center for Sound, Vibration and Smart Structures at the Faculty of Engineering and its development since its inception in 2005. He also pointed to a large number of universities, has done joint projects with them.
The aim of the visit is to measure the impact of projects funded by the European Union Education Program Erasmus Plus on students, faculty staff and the educational institution in general.