Prof. Dr. Abdul Nasser Sengab, Vice President of Ain Shams University for Postgraduate Studies and Research opened the activities of the seminar organized by the sector on the grant and scholarships program provided by the American aid "Fulbright". The opening was in the presence of Prof. Dr. Rania Salah Director of the Office of International Relations, Faculty of Medicine, Ain Shams University, Dr. Magi Nasif, Executive Director, Fulbright Office, Egypt, Dr. Yasser Ayad, Professor at the American University of Clarion and a member of the Fulbright Office of Egypt and a number of representatives of the American Embassy in Cairo.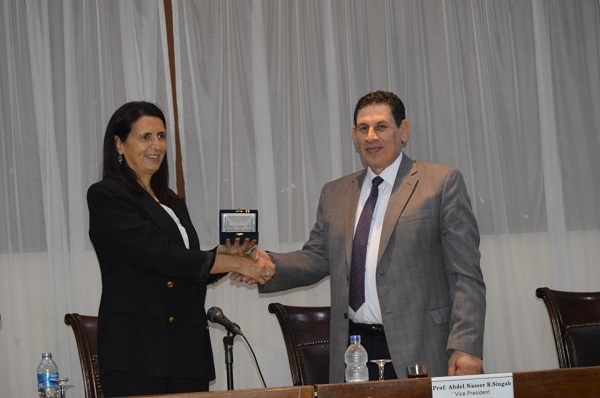 During his opening speech, Prof. Dr. Abdel Nasser Sengab praised the fruitful cooperation between Ain Shams University and Fulbright, which began five years ago and resulted in the benefit of hundreds of graduates of Ain Shams University or its researchers or faculty members or the supporting body, obtaining opportunities and grants and scholarships funded by the Fulbright. He pointed out that the number of applicants from the University for Grants during this year only reached 130 applicants to date.
He stressed that the University is keen to activate the partnership with various research institutions and academic worldwide. It is conducive to raising the international classification of the University.
Dr. Magi Nassif, reviewed the history of the Commission in Egypt since 1946, pointing out that the seminars are held in conjunction with the celebration of the 70 years of cooperation and the establishment of a Fulbright office inside Egypt.
She also praised the attendance and interest of the university community in Ain Shams, pointing to the most important programs and opportunities offered by Fulbright.
Dr. Yasser Ayad presented a model for a successful research project in cooperation with the Authority, which is based on the launch of an application that enables the definition of the Islamic history of Cairo, its location and all historical and geographical information about it.
This was followed by the opening of a discussion between the audience and the Fulbright team to identify the available scholarships and grants and how to apply for them and all the conditions necessary to join them.